About Jeanne
About your practitioner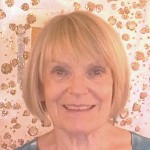 For many years I was a primary teacher before becoming interested in Alternative therapies and commencing training.
Since then the world of Alternative therapies has become my passion.
My own stress took me to the work of Louise Hay and having experienced the benefits for myself I knew I had to introduce others to this brilliant work. This culminated in me becoming a Louise Hay 'Heal Your Life' course leader in 1995 and then to receiving the Reiki attunements and becoming a Reiki Practitioner and Master, teaching others on the Reiki path.
The Metamorphic technique followed and after training with Gaston St Pierre I become a practitioner in 1999.
As my interest in Alternative therapies grew I was introduced to Resonance Repatterning and my passion to learn more about this cutting edge therapy was fuelled. Hence my training began and in 2003 I became a certified practitioner. New information is constantly being garnered and each practitioner constantly evolving by completing extra training within each 24 month period
.
My curiosity never satisfied, the new and exciting therapy of EFT, Emotional Freedom Technique has now also been added to the list of therapies which I practise for the benefit of clients.